Education News
Summertime Blues concerts at library to mix music with education | News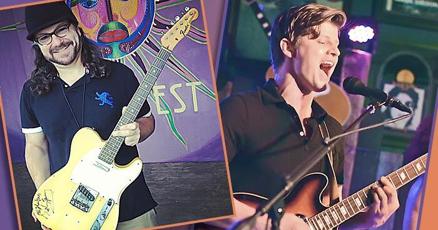 The Norfolk Public Library has arranged concerts that slow-music lovers will certainly enjoy.
On Thursday, July 21, Mark Gibson will perform a combination of cover songs and original works that include bluesy, soul-tinged melodies at 6:30 p.m. Gibson is an Oklahoma singer and songwriter who has performed at the Norfolk Public Library and other venues in the Norfolk area multiple times. His program is strictly a concert format, whereas his counterpart the following week, Joey Leone, will be including a mix of education and music at his performance.
Gibson has had a roller coaster of a career. In 2012, he released his first album, "Beautifully Deconstructed," which contained influences from European rock bands like U2 and Coldplay. Then Gibson decided it was time to find his own sound instead of relying on influences. As he was on this journey, he remembered that his love for music began with the guitar, so he figured that he should start there. Eventually, he fell in love with blues and released two more albums based on that genre.
"I'm super excited to be performing for the Summertime Blues concert. I've played at the Norfolk Public Library before, as well as a couple of venues in town, so I'm looking forward to catching up with some familiar faces," Gibson said.
He is set to feature his own songs, including: "Such a Shame," "Something to Cry For," "All My Life," "Hymn for America," and "Dangerously Close to Being Alive," all of which come from his solo albums. He also will include hits from Prince, Adele, Elvis Presley and John Mayer.
"The library is a beautiful space to perform in. It's going to be a wonderful experience," Gibson said.
On Tuesday, July 26, concertgoers will be in for a history lesson beginning at 6:30 p.m. Officially titled as "The History of the Blues," Leone will present a one-hour program that will cover the history, influence and social impact of the American blues genre through songs, stories and historical facts. With this program, Leone aims to highlight the influence that blues has had on a wide variety of contemporary music genres over the past seven decades. Leone also has starred in a PBS documentary on American country music and is a seasoned guitarist and music historian. This marks the first year in which Leone will present his program at Norfolk's library.