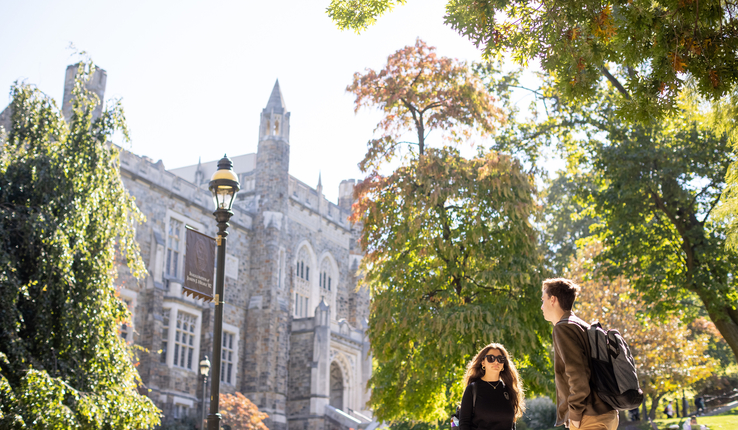 The program was launched with four foundational gifts totaling nearly $3.5 million from Mark Alpert '70; Board of Trustees Vice Chair Maria Chrin '87 '10P and John Chrin '85 '86 '10P; Trustee Ann Lewnes '83 '22P and Greg Welch '22P; and John Staub '86. These gifts will allow the university to initially offer six scholarships, with the aim of eventually building a cohort of 12-15 recipients per academic year. With the university's vision to offer 50 of these scholarships through philanthropy, the Soaring Together Scholarship Program will become the largest and most comprehensive of its type at Lehigh.
"We are grateful to these donors for being among the first to fund this important scholarship program in honor of this milestone," said Lehigh President Joseph J. Helble '82. "Our goal with any scholarship is to open Lehigh's doors to talented students. This program is broad in both scope and impact. It's designed to support new learning experiences and inspire relationships that will strengthen our alumni network, and help us continue to advance gender equity."
The scholarships will be awarded to a select number of incoming Lehigh students who excel academically and demonstrate their interest in and commitment to advancing gender equality. All applicants to Lehigh are eligible to apply for the scholarship, beginning with the Class of 2027.
"The Soaring Together Scholarship Program is exciting to me because, not only does it allow us to honor the many significant and sustained accomplishments of women at Lehigh, it will also serve to attract and reward the next generations of those who seek to advance gender equity at Lehigh and, in so doing, to advance Lehigh broadly," said Dan Warner, vice provost for admissions and financial aid.
"I am thrilled about a scholarship program that celebrates the impact and contributions of Lehigh women—past, present, and future," said Maria Chrin. "As barriers, like the gender gap, continue to be broken, Lehigh as an institution and as a community will become even stronger. I have great expectations for the next 50 years of women at Lehigh."