Education News
Hoping to Eliminate Barriers to Education, InclusiveU Goes to Washington, DC
On any given day, members of Congress and their staff can hold dozens of meetings with concerned citizens and interest groups looking to advocate on behalf of a particular issue.
Sometimes these citizens are seeking additional revenue for their cause. Other times, they want to educate and spread awareness.
If you took a survey of the congressional staffers who met recently with a delegation from Syracuse University's InclusiveU program, chances are they would remember the energetic and charismatic Olivia Baist '22, who recently earned a degree in studio arts from the College of Visual and Performing Arts.
Baist is a proud graduate of Syracuse University and its InclusiveU program, which thanks to an initiative from the Taishoff Center for Inclusive Higher Education brings students of all ages with intellectual and developmental disabilities to campus to experience college life in a fully inclusive setting.
Baist and two of her InclusiveU colleagues—director Brianna Shults G'20 and Katie Ducett, an inclusive (special) education Ph.D. candidate in the School of Education—spent two days pushing for policy change to make higher education accessible for people with intellectual and developmental disabilities during a whirlwind tour of Capitol Hill in Washington, D.C.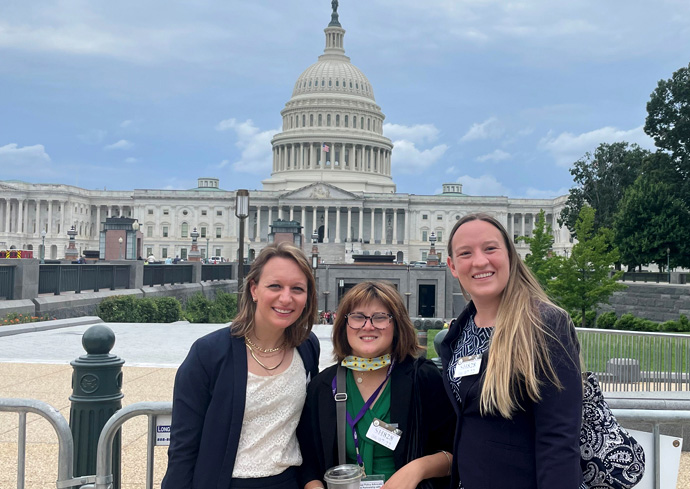 Without fear, Baist would approach anyone she came across on the Hill, introducing herself, extolling the virtues of InclusiveU and telling the representatives her short- and long-term goals: "I want a career, I want a job and I want my own apartment. InclusiveU is helping me start my career and I'm grateful and thankful," says Baist, who admits she wouldn't have left home to pursue a college degree were it not for InclusiveU.
Their purpose was clear: to ask these elected officials to serve as a resource, to increase support and awareness of InclusiveU, and to reduce the stigmas that still exist surrounding students with intellectual and developmental disabilities.
"I made my forever friends at Syracuse and it's all because of InclusiveU," Baist says. "I had internships [at the Barnes Center at the Arch and Bird Library] and I've really grown. I always wanted to go to college, and this made me more independent."
Opening Doors for All
Syracuse University has a proud 152-year history of opening its doors to all students who are interested in receiving a college degree, regardless of their background or upbringing.
But for many adolescent students with developmental disabilities, the pursuit of higher education is filled with roadblocks and can be a daunting task for both aspiring students and their families. Founded in 2001, InclusiveU equips students with the necessary skills to thrive in the classroom and find a job after graduation.
What started as a dual enrollment program with the Syracuse City School District has grown exponentially over the last 21 years. Last year, more than 100 students pursued their academic dreams on campus as part of InclusiveU's program, including 35 students who lived in residence halls.
The program features individualized and inclusive coursework, student-centered planning, internships and social and extracurricular activities.
Because of strong partnerships that increase accessibility to higher education while making the various academic programs and student life opportunities more accessible through student-oriented, peer-to-peer programming, Shults says InclusiveU has been successful while helping transform so many lives.
"InclusiveU really has a big impact on our campus. We contribute a lot to the campus community, and our students have a profound impact on other students. The roadblocks our students deal with are similar to their counterparts on campus, from figuring out how to afford college to creating a career plan, but we are always looking for ways to give our students access to the resources they need while breaking down the barriers to an education," Shults says.
Preparing for a Lifetime of Success
According to Shults, before the COVID-19 pandemic, 100% of InclusiveU students were successful in finding paid, competitive jobs once they earned their degree, thanks in part to the relationships InclusiveU develops with its partners, both on campus and in the Central New York community.