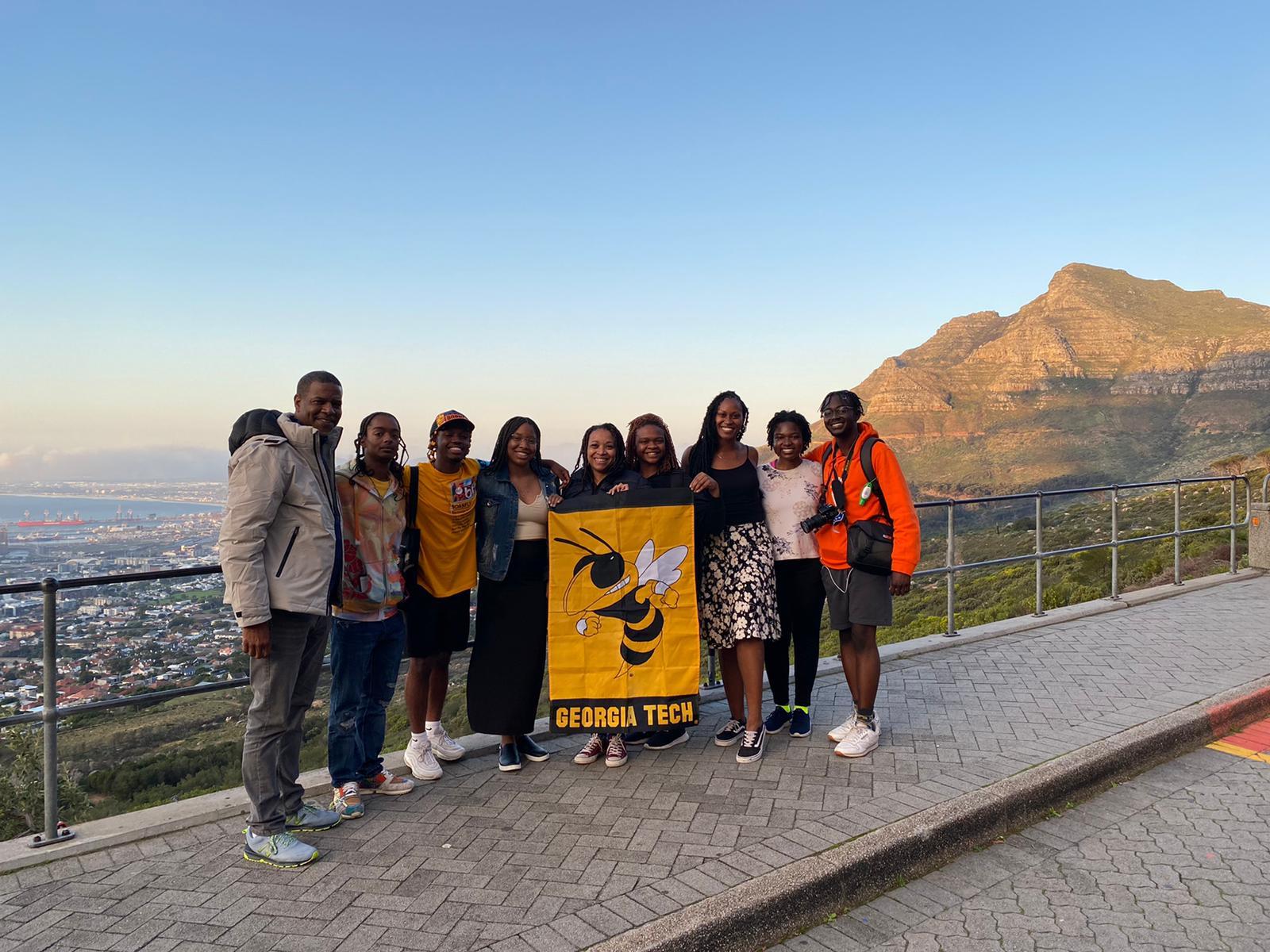 The Office of International Education has adjusted to the new normal by finding ways to meet student demand for global engagement.
The last two years have been filled with international travel restrictions affecting where and how students could access international study opportunities. The Office of International Education (OIE) has adjusted to the new normal by finding ways to meet student demand for global engagement.
"Global learning at Georgia Tech never stopped," said Lorie Johns Páulez, director of Education Abroad in OIE. "During the pandemic we pivoted to some remote learning options so that we could continue to offer international opportunities to students, even though we could not physically go places."
As travel restrictions evolved, OIE collaborated with dedicated faculty leaders to make plans and several backups for study abroad in case of last-minute changes to international travel guidelines.
"We had to find ways to offer programs and also have a way to cancel them with minimal impact," said Johns Páulez. "We're basically trying to predict the unpredictable by installing systems of go and no-go dates where students would not lose any money if we had to cancel a program."
Each summer Tech normally has about 55 faculty-led study abroad programs. This summer the number is down to 26, but more are expected to return for 2023.
"We have more than 1,000 students in those 26 programs, so things are coming back and we're on our way back to high levels of participation because students want to go and our faculty are dedicated to global education," said Johns Páulez. "I attended a couple of the FASET orientation sessions to talk with students and their parents. They all were very eager and excited about international opportunities, whether it be the living learning communities on campus or study abroad."
Participation in Tech's living learning communities is also rebounding.
"We're basically back to normal in terms of on-campus engagement," said Allison Noffsinger, director of On-Campus Internationalization in OIE. "Despite initially having low applications, the I-house Living Learning Community is now full. So, we have lots of exchange students from all over the world who will be living with our degree seeking students. We also returned to pre-pandemic levels in the Global Leadership Living Learning Community, with 122 students for next year and another 20 students on the waitlist."
Johns Paulez and Noffsinger said that working on international programs during the pandemic has been challenging, but it left them with some big takeaways.
"The biggest lesson I've learned is that we are more resilient than we think," said Noffsinger. "In general, humans are more resilient than they give themselves credit for. No matter what is put in front of us, we will find a way over it, under it, around it, or through it. And, we'll come out thriving in the end."
Commitment to Global Engagement Strengthens Its Return
Although the pandemic caused international travel restrictions to change frequently, student interest in study abroad never waned. Neither did the commitment of faculty and staff who wanted to ensure that students have a global experience. Among the study abroad programs this summer are the Scheller College of Business Leadership for Social Good program in Eastern and Central Europe, the AE Limerick Summer Program, and the inaugural Study Abroad and Global Innovation Project in South Africa and Namibia.
The Leadership for Social Good program is a 10-week program that takes students to Czech Republic, Slovakia, Austria, and Hungary. The program introduces students to global civil society and the challenges of creating and leading effective and sustainable social enterprises. Students work with and learn from social innovators in Hungary and track their impact along the United Nations Sustainable Development Goals.
This year 13 students with a variety of majors are working with seven nonprofit and social enterprise organizations.