Scholarships in USA
Circle of Giving, Statesville NAACP branch award $15K in scholarships | Local News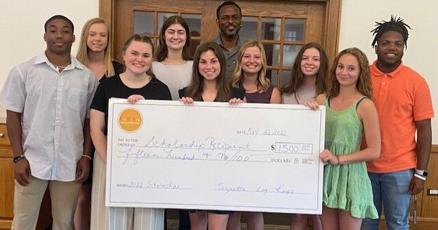 Special to the
Record & Landmark
Ten high school seniors received $1,500 scholarships from the Circle of Giving and the Statesville Branch of the NAACP.
Checks were presented to graduates at First Baptist Church, 815 Davie Ave., during the spring COG business meeting with NAACP members and graduates' families in attendance.
The scholarship recipients are Elizabeth Lourcey, Breanna Gibson, Josie Chenevey, Skylin Guill, Isabella Templeton, Adrian Lewis, Abbey Martin, Hannah Lackey, David Knox and Tilan Earle.
This marks the first year the Statesville Branch of the NAACP partnered with COG (both nonprofits) to review applications and select winners; three of the 10 scholarships were sponsored by the NAACP.
Those chosen include four from Statesville, two from Union Grove, one from Stony Point, two from Seneca, South Carolina, and one from Blythewood, South Carolina.
People are also reading…
Criteria for applications include a cumulative GPA of 2.5 or above, essay, school faculty recommendation, transcript and acceptance letter to an institution of higher learning.
"The selection process was very tough with many applications pulling my heart strings … so many deserving applicants" said Linda Johnson, who serves on the scholarship committee.