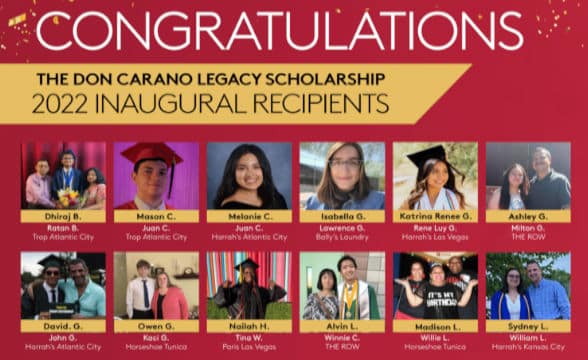 In Summary:
Caesars Entertainment awards 22 students team-members scholarships The scholarships are extended under the Don Carano Legacy Scholarship fund Caesars is committed to helping team members educate themselves
Image Source: Caesars Entertainment
Hospitality and entertainment giant Caesars has awarded 22 students in the US scholarships up to $20,000. The funds have been granted under the company's Don Carano Legacy Scholarship and they will be renewable for a period of four years provided specific criteria are met.
Paying Homage to El Dorado's Founder
Each scholarship will be extended to $5,000 a year. Renewal conditions are based on a student's participation in academic life, attending classes, and passing exams successfully. The company is paying homage to Eldorado Resorts founder Don Carano who had a passion for the gaming industry and family values, all shared by Caesars which was what moved the company to create the grant.
The scholarship is available to Caesars team members who are either high school seniors or currently attending college. Commenting on this opportunity, Caesars Entertainment CEO Tom Reeg said that the company was impressed with the applicants for the inaugural year of the grant:
Supporting our team members is our top priority, and that means supporting their families as well. We're proud to launch this scholarship program and provide financial aid to these remarkable and diverse students.
Caesars Entertainment CEO Tom Reeg
The successful candidates were shortlisted from a pool of diverse applications and included students from numerous states across the United States. Caesars Entertainment COO Anthony Carano welcomed the opportunity to do more good for team members and said that the company remained committed to treating employees like family members.
Supporting Team Members on Their Quest to Knowledge
He said this was Carano's own personal example in Eldorado Resort, which he launched in 1973. Carano himself was passionate about education, Anthony said: